3 reasons to choose Afimilk
Unique Customer
Support Experience
Afimilk's application support team is fully dedicated to supporting you on your farm. Our Application support team will ensure that AfiCollar is integrated into your farm's unique workflow, providing ongoing advice to ensure each customer gets the total value from AfiCollars to our full in-shed technologies. Likewise, we will set out specific contact points through seasons – pre-calving/calving /pre-mating/ mating, implementing proactive plans to follow up the Afisolution's performance.
Afimilk management tools enhance automated processes and decreases the need for farm labour. For example, accurate heat detection replaces observations and tail paint; milk meters automate milking, and drafting gates enable efficient and scalable treatments. More time for you and your family!
Higher pregnancy rate,
better profitability, and improved herd health
Afimilk cow monitoring tools provide timely and accurate heat detection for improving herd fertility and optimised lactation intervals. In this sense, Afimilk results can help you to boost herd fertility, optimise the milking process, and enhance herd planning and genetics. Likewise, Afimilk systems proactively detect and facilitate the early diagnosis and treatment of mastitis, lameness, ketosis, and feed deficiencies.
Farms automated by Afimilk
Cows managed by AfiFarm SW
Cows in heat
detected by Afimilk's sensors, daily.
Dairy cows - the largest
herd managed using Afimilk automation
Cow monitoring with Afimilk: the beginning of our client journey
Make informed and profitable decisions about your herd with Afimilk's integrated solutions.
AfiCollar is designed for accurate heat detection, rumination and eating time data. AfiCollar provides accurate and time-sensitive heat detection data to identify the best fertility window to maximise your herd's reproductive performance. 
With AfiSort Drafting Gate, you can automatically draft out your cows identified by AfiCollar as being on heat or sick. With AfiFeed, you can set up to 16 unique feed types to customise a diet (individual or herd based) on the stage of lactation, production, weight, age and other variables.
AfiFarm software interprets the data from the following sensors: Aficollar, MPC, AfiLab and AfiWeigh, to provide you with key information to make timely and accurate decisions.
Afimilk's MPC Milk Meter helps you to make informed decisions based on daily production and milk trends for each cow. It also provides you with information to allow early detection of mastitis.
Finally, with AfiLab, you can analyse protein and fat components to effectively detect ketosis, acidosis, and other nutritional issues. You can also  gain valuable insight into each cow's genetic potential to produce fat and protein. Likewise, you can access real-time insights on milk volume, conductivity and components from every cow at every milking, and understand the actual value of milk. 
Full integration between all products including our AfiSort drafting gates.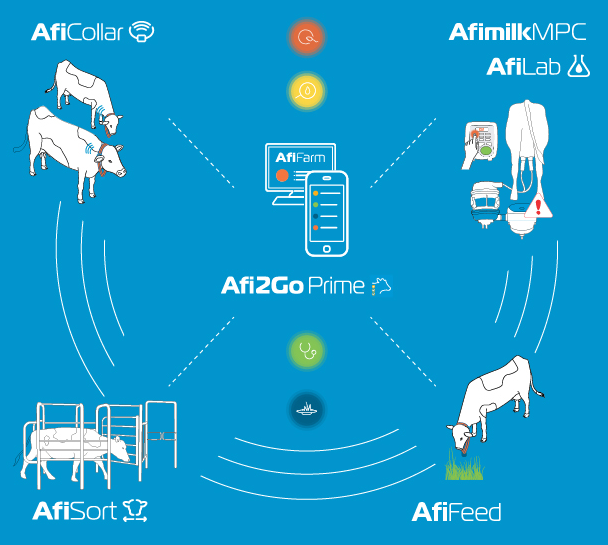 AfiFarm - Afimilk Herd Management Software Intuitive and powerful!
AfiFarm is the one of the most comprehensive software in the industry. AfiFarm enables you to manage your farm with its easy-to-use interface, quick access for easy answers, and connectivity on the go with the new Afi2Go Prime mobile app. AfiFarm puts key management features at your fingertips, including attention and action lists, fertility management, health problems, milk production and more.
Thanks to AfiFarm; farm management can now be made easier, even for large herds (up to 60,000 milking cows.
Improve in-shed efficiency with intelligent automation solutions.
Afimilk offers producer-friendly technology that provides actionable information to streamline dairy farm management. Afimilk's automation and management solution includes a unique set of milk sensors to monitor and record the most essential aspects of milk yield for each cow during each milking session. We keep developing key applications to drastically change how farms are managed and monitored, for better results.
With Afimilk, you can save time allowing you to spend it on other activities!​
Nuestra red global de distribuidores le garantiza un servicio excelente y un amplio conocimiento
Nuestros 250 concesionarios en todo el mundo impulsan el esfuerzo adicional para llegar a su campo lechero y entregar la solución adecuada para usted. Estarán allí cuando necesite apoyo. Afimilk entrena incesantemente y actualiza sus concesionarios, para que puedan darte el mejor servicio.
The system has greatly increased the profitability of this farm and moving forward I would never install a shed without it.
Mark Brown, Autaki Trust
Play
Afi technology allows us to really concentrate on how the cows are fed and drive some efficiency on the milk production side of things
Mark Carter, Sion Trust Farms
Play