The ultimate tool for dairy farm management
AfiFarm software is comprehensive, flexible and user-friendly. It is crucial to the automation and management of dairy farms, and now boasts a new set of capabilities and enhancements.
AfiFarm 5.5 provides superior farm management.
Vital Know-How in Every Step
AfiAct II provides five services in a single sensor:
Precise heat detection.
Accurate Animal ID in the parlors.
Timely calving alerts.
Robust rest and well-being monitoring.
Sensitive lameness detection.
Vital Know-How in Every Drop
In-Line Milk Lab™ provides advanced milk analysis
It measures the milk yield and quality for each cow, and monitors milk components (fat, protein, lactose). It also reliably detects:
Mastitis
Sub-clinical ketosis
Acidosis
Nutrition problems
Intuitive and User-Friendly
The AfiFarm ABC dashboard provides a snapshot of your farm's functioning.
The dashboard is an intuitive, comprehensive farm management tool that integrates and translates all cow and milk data into practical information that you can use to make informed decisions. 
Herd Status
Health Management
Insemination & Fertility
Effective farm management.
Leading Software for Large-Scale Farms
AfiFarm is a management software tool that handles up to 60,000 animals in a single herd, in real time.
It has earned a global reputation for being a reliable farm management instrument for farms with large herds (2,000+ animals).
Mobile management, anywhere, anytime. Afimilk mobile apps will keep you informed and in control:
On important events, such as difficult calving or animals ready for insemination.
On animal profiles, such as marking a cow for sorting if she needs attention.

Everything you need to know – at a glance;
Anything you need to do – with a touch.
AfiFarm ABC - advanced software, made simple
User-friendly with improved accessibility and intuitive interface.
Key management functions at your fingertips.
Updated data can be viewed through a variety of reports.
Current status – inventory and production.
Attention lists – robust system reports.
Action lists – tasks to perform, problems to solve.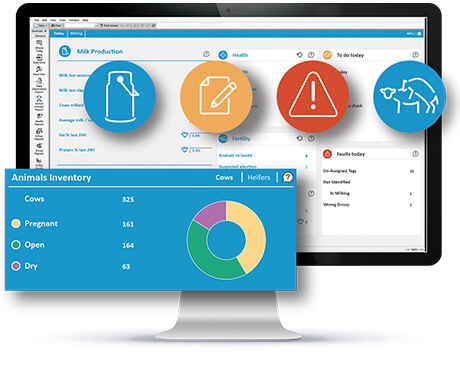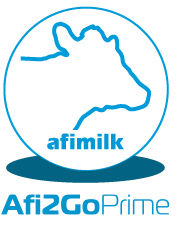 Everything you need to know and do. Where-ever you are!
Afi2Go Prime – spend less time in the office, and more time in the field:
Cow identification: use RFID wand, type her number or work by lists.
Information control: cow status, events history, and sensors data.
Mission planning: assign tags to cows, manage tasks, manage animals and codes, set group, sort, apply diagnoses and treatments.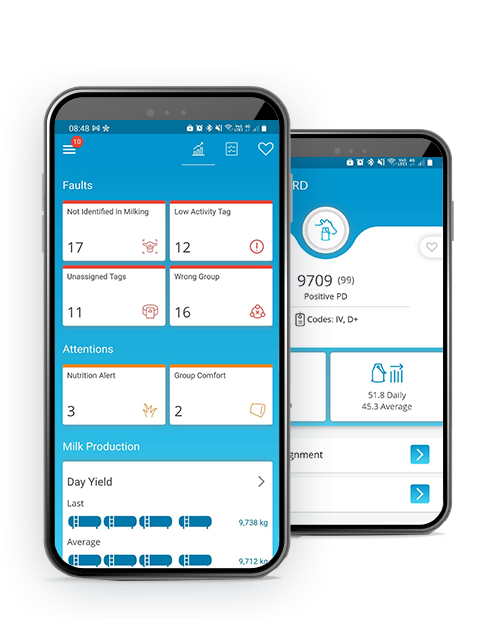 "Farm Notification" Mobile App
Critical information at your fingertips​
Used in manual mode or linked to standard RFID wands. Notifications include animal status, events, and more. 
Receive Alerts, on time – every time!
Time sensitive events are now linked directly to your smartphone.
Evetns are displayed as splash notifications and can be browsed at all times in your farm-notification inbox.
Evetnts include: insemination readiness alerts, calving alerts, and general system alerts.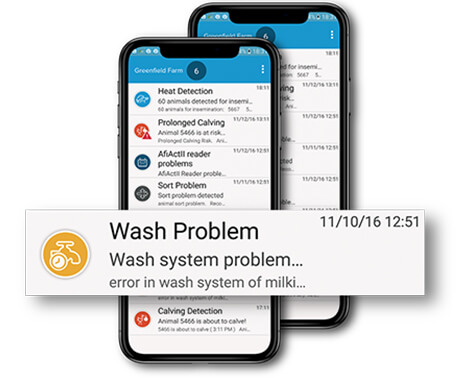 Breakthrough in Early Detection - Specifies Who & What
With AfiFarm, animals are treated in time.
Our software works hard for you.
Using powerful, smart technology, AfiFarm provides detailed, actionable information — such as the following early detection reports, developed by our experts:
Mastitis 
Ketosis
Fresh cows' diseases
Nutrition alerts
Anestrus cows
Suspected abortion
Overcrowding
Bedding problems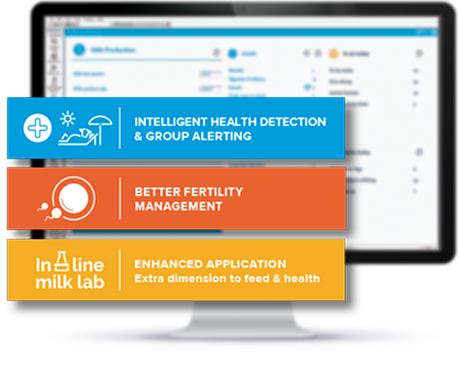 Find out which cows to inseminate and when to do this.
Not only will AfiFarm will help you detect animals in heat and mark them for insemination, it will also indicate the best timing for insemination.
Being in control of the insemination timing helps achieve improved conception rates.
Save money by avoiding ineffective insemination during infertile periods.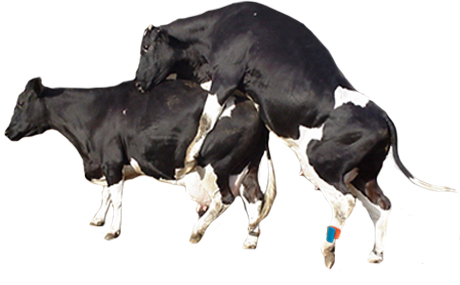 Malfunction Dashboard - Intuitive Interface, with Updated Information
Monitor the status of your equipment in and out of the parlor. Receive immediate alerts when malfunctions are detected. Use the information to quickly identify the location and cause of the malfunction.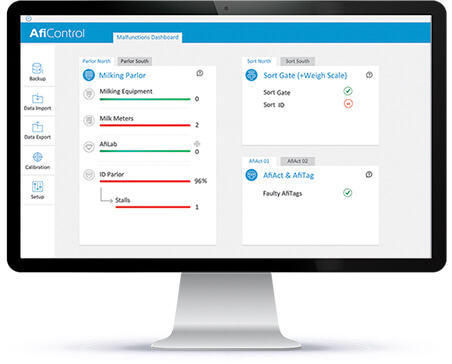 Vital Know-How in Every Birth
Knowing the time of calving can be the difference between life or death outcomes for calves and cows. AfiAct II provides calving alerts that help you save lives.
Detection of calving event, just before it starts.
Detect difficulty in calving that may require intervention.
Direct Notification to your smartphone app.
Proven field results from hundreds of large-scale farms, around the world.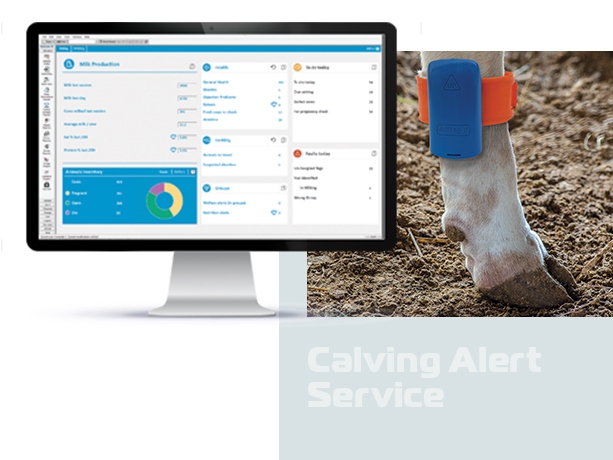 Eyes Everywhere - Without Moving
All information and functioning is visible from the milker position at the first stall, or from the comfort of your office.
Intuitive touchscreen-based control keeps you in control of everything in the rotary.
Status of milking session progress, groups, and production data keeps you in control.
Alerts on cows in wrong group, early kick-off, antibiotic code, or high conductivity, make sure intervention is timely.
Actions such as sending a supervised cow for sorting or holding for a second rotation.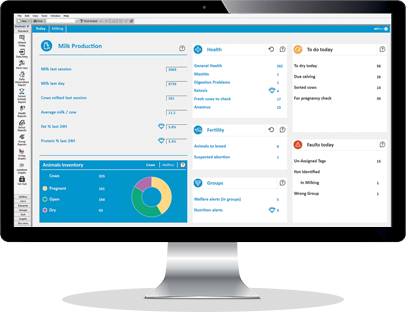 Touchscreen for Easy, Complete Control
Status: milking progress, production and groups data.
Alerts: wrong group, mastitis, early kick-off, codes.
Actions: sort, 2nd rotation.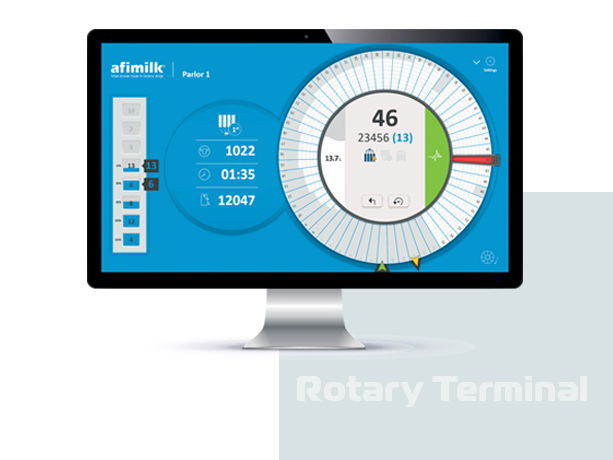 Keep Track of Your Workers
AfiFarm Milking Efficiency Module – Keep an Eye on the Parlor.
Well-established milking routines, effective preparation, post-dip, and equipment cleanliness are vital to milking performance. The AfiFarm milking module helps coach and monitor the parlor team and has a proven record of significantly improving udder health and milk productivity.
Parlor monitoring dashboard includes session KPIs (Key Performance Indicators) to set and meet goals.
Quickly identify and deal with problems.
Milking preparation monitor, identify at a glance whether udder prep was optimized for each shift; compare shifts.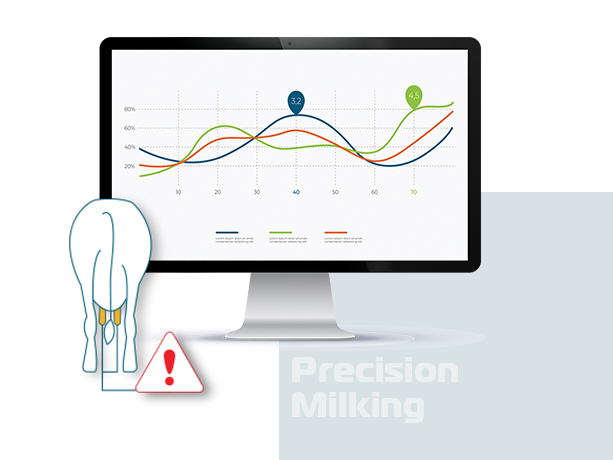 Smart and Effective Sort Automation - Calm Cows, Calm Farmers
Cow insemination, treatments, vet checks, pregnancy checks, hoof trimming, animal movements, are all daily necessities. In each case, the right cow needs to be identified and sorted. AfiFarm provides a top automatic sorting solution:
Automation – define and automate any routine task, sorting the relevant animals at the selected times.
Flexibility – Set 2-or 3-way gates, activities per time /day / week. Sort automation is a flexible management tool that makes anything possible.
Ease of use – assign codes and sort. Alternatively, use the mobile app to indicate a specific animal, milk-meter button, or rotary terminal.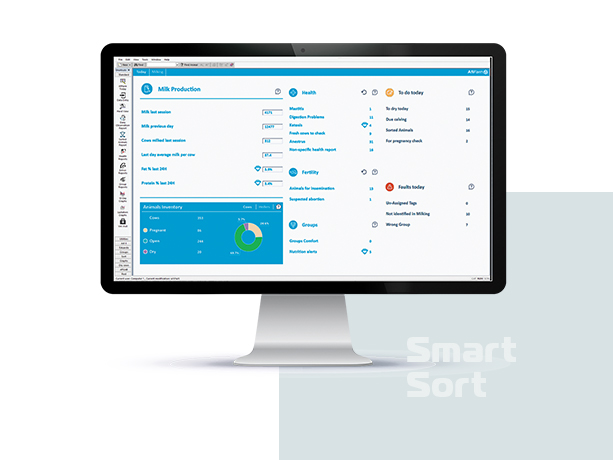 Individualized Feeding Plans
AfiFarm allows you to plan and execute automated feeding programs that optimize the feed and supplements each animal receives. Calculations are made according to lactation stage, pregnancy, yield, and body condition.
Features and benefits:
Feed strategy per status: heifers, 1st lactation, late lactations.
Special treat: pregnant animals program.
Smart menus: automated policies by days in milk, yield, body weight and body condition score.
Safety mechanisms to avoid over-feeding, or no-feeding, set daily maximum and daily minimum.
Control of feed distribution throughout the day.
Special menu for Ketotic cows – treatment options (empowered by AfiLab automatic Ketosis detection).