No one ever said running a dairy farm was easy. There's heavy manual labor – from feeding the animals, to herding them out to pasture, to milking them and checking on any cows that may require medical attention. Even if farm managers don't do all the heavy-lifting themselves, they are kept busy delegating responsibilities and making sure that the farm is running smoothly.
Prior to the digital transformation, farms relied on purely manual processes to monitor all of the daily tasks and activities that had to get done. This meant pages of handwritten notes keeping track of each cow and its fertility status, health needs and any other important information. With none of the information stored digitally, it was easy to lose track and let otherwise easily treatable problems fall through the cracks only to be discovered at a later stage.
Fortunately for today's farmers, technological tools have (and continue to) changed the farming industry for the better. Tools that include electronic collars and leg tags, sorting gates, and automatic milking parlors have made the daily experience for farm managers and workers significantly more efficient and more profitable. The link between all these different tools is the AfiFarm software which collects, interprets and displays the data gathered from each device giving farmers much-needed real-time visibility into all of the goings-on on the farm. Understanding, however, that farmers are busy people and, on any given day, may not have much time to sit at their computer, Afimilk is pleased to introduce the Afi2Go Prime app. Now all the valuable data and insights farmers need to run their farms day-by-day can be accessed from a mobile phone, anyplace they like.
Read on to see how the introduction of Afi2Go Prime can make a farm completely paperless and how that will massively increase the efficiency of daily life on the farm.
A Day in the Life: Before Afi2Go Prime
Brian owns and operates a dairy farm with 400 cows. He wakes up bright and early and heads to the farm office to get ready for the day. He prints out the list of 400 cows and starts writing notes for the farm workers informing them about which cows need to be inseminated, which ones require pregnancy checks, and other details and tasks that have to take place during the day.
He makes a copy of the list for each worker and hopes that they will each take care of their assigned cows and won't accidentally do double work or – worse – inseminate the wrong cow. After the workers arrive, there is a quick meeting in which everyone gets their assigned tasks for the day. Brian has to be very organized and checks his notes a few times to ensure that he's assigned all the tasks that need to be done to workers. He tries to divide the work evenly, but it's not possible to know when something unexpected might arise taking a worker away from their planned assignments. 
The workers spread out across the farm and spend the day tracking down the relevant cows for their pregnancy checks, inseminations, vaccines, hoof trimmings, antibiotics, health checks or anything else they might need. Some workers are tasked with managing the milking process including bringing the cows to the milking parlor at the right time, hooking them up to the machinery and troubleshooting any issues that arise. Each worker has his or her paper list on which to write down any important notes about each cow. 
As the day draws to a close, the workers return to the office with their, by now mud-stained, lists filled with handwritten notes. Brian spends the next few hours reviewing the lists, inputting the information into the AfiFarm program. He tries not to get too frustrated when he can't read the handwriting or when it becomes clear that a few cows were inadvertently not given the attention they required. He can't help but think that there must be a better way to keep track of all of the tasks that must get done!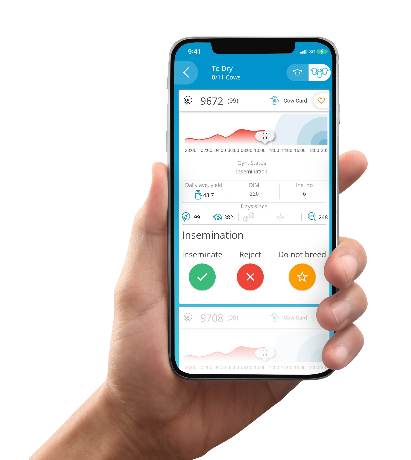 Brian is right – there is a better way to run a farm efficiently! Afimilk has introduced its newest tool – Afi2Go Prime. This app will be a complete game changer for farm managers and workers alike. Gone are the days of printing paper lists and trying to squeeze in notes on every line. No more hours need to be spent inputting information into the system at the end of the day.
With Afi2Go, Brian and all his workers will have everything they need right at their fingertips throughout the day. The app can be installed on any mobile device and has a different view for the farm manager and each worker so that everyone only sees the information that they need. No distractions and no confusion.
For Brian, Afi2Go is the ideal management tool. Wherever he goes on the farm, he can look at the app and get an overview of everything that needs to happen that day.
He can see how many cows are sick or suspected to have an illness, how many cows are due to be inseminated or sent to dry, etc. The dashboard view can be customized to suit whatever it is that Brian most needs to see. By clicking on each button, he can see more detail as to which specific cows fall into each category. From there, he can assign tasks to each worker.
As each worker progresses through the day and checks off finished tasks, Brian will see the numbers going down on his app and can check the status at any given time. If an unexpected situation arises and a particular worker has to deal with an emergency, it's easy for Brian to assign that worker's tasks to someone else in real time. Automatic notifications ensure that no one will miss any important changes or updates.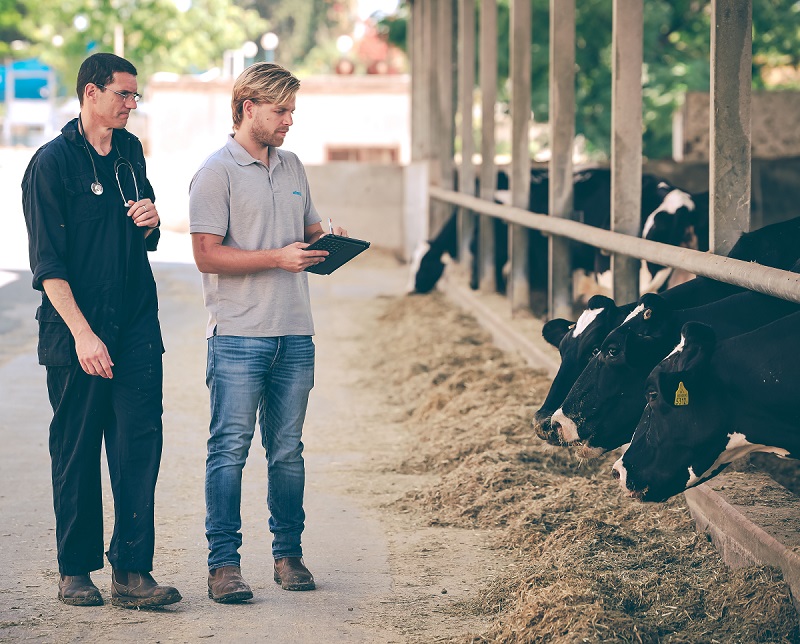 Of course, Brian can also drill down even further in the app and check the status and statistics related to each cow. At the click of a button he can identify whether a cow is in heat or how much milk it produced that day. Spotting any worrying trends early can make the difference between a simple-to-fix issue and a widespread illness impacting the whole herd.
The app automatically syncs with AfiFarm so there is no need to manually enter information at the end of the day.
Afi2Go will quickly become the farmworker's best friend. It acts like a personal assistant following them around and letting them know what they need to do next. Each worker sees a personalized list of all their tasks. As they run down the list and complete each task, they simply mark it as "done" and move on to the next.
One of the key benefits to the Afi2Go app is the user experience and the way it has been designed and built with the realities of farm worker life in mind. Time is of the essence, so almost everything can be done with just one click. For example, if a worker is checking cows for insemination, they click on the cow number and the screen comes up with 2 options: inseminate – confirm or reject. With one click, the worker has updated the system with whether or not that cow has been inseminated. Of course, there is also the option to add in notes whenever necessary.
On Afi2Go even the button placements were planned specifically to enable workers to operate the app with one hand or in many cases just one thumb. Workflow defaults can be set up so that all the worker will have to do is click confirm or reject – saving time whether they are dealing with 10 cows, 100 cows or even 1000 cows.
The app works just as fast as the farmers do. As soon as one task is finished, the next one immediately pops up on the screen. All of the syncing with AfiFarm is done in the background and quickly in real time, with no latency. Nothing will hold the farmer workers back from working as efficiently as possible.
The Results of a Paperless Farm
Brian's life changed for the better as soon as Afi2Go was installed on his and all of his workers' phones or tablets. Brian himself always has a handle on exactly what work is being done and who is doing it. He can make changes on the fly in response to real time situations without any undue stress. The workers, as well, have become significantly more efficient, saving so much time that used to be spent taking handwritten notes and tracking down the right cows. Everyone is happier and the farm is running more efficiently – and more profitably – than ever.