How AfiFarm Helps Dairy Farmers Improve Feeding Efficiency
Nigel Lok's South African dairy farm, Robhoek, is situated in the Tsitsikamma region of the Eastern Cape. The farm is home to 1800 dairy cattle, with 1200 Holstein cows calving annually. Robhoek is spread across 240 hectares of irrigated ryegrass pasture and plants 60 hectares of maize for silage annually.
Nigel uses the Afimilk dairy management system with AfiLab milk meters and AfiCollars to help him run the farm according to best principles.  These solutions enable the farm to save costs on food and supplements as well as ensure that each cow is fed a diet tailored to its nutritional needs.
The following technologies are used daily on Robhoek:
AfiFeed – Afimilk's individual feeding supply system increases milk production by efficiently apportioning a calculated supply of nutritional supplements to each cow according to their individual requirements. The AfiFeed system can be set to work inside the milking parlor or installed as an independent module outside of it and can be set by the farmer to precisely ration up to 4 different types of supplements based on the herd's requirements.
Afimilk Milk meters and AfiLabs – Each milking point in Robhoek's rotary parlor is fitted with an Afimilk milk meter and an AfiLab online milk analyzer which automatically collects and analyzes milk quantity and composition for each cow at each milking.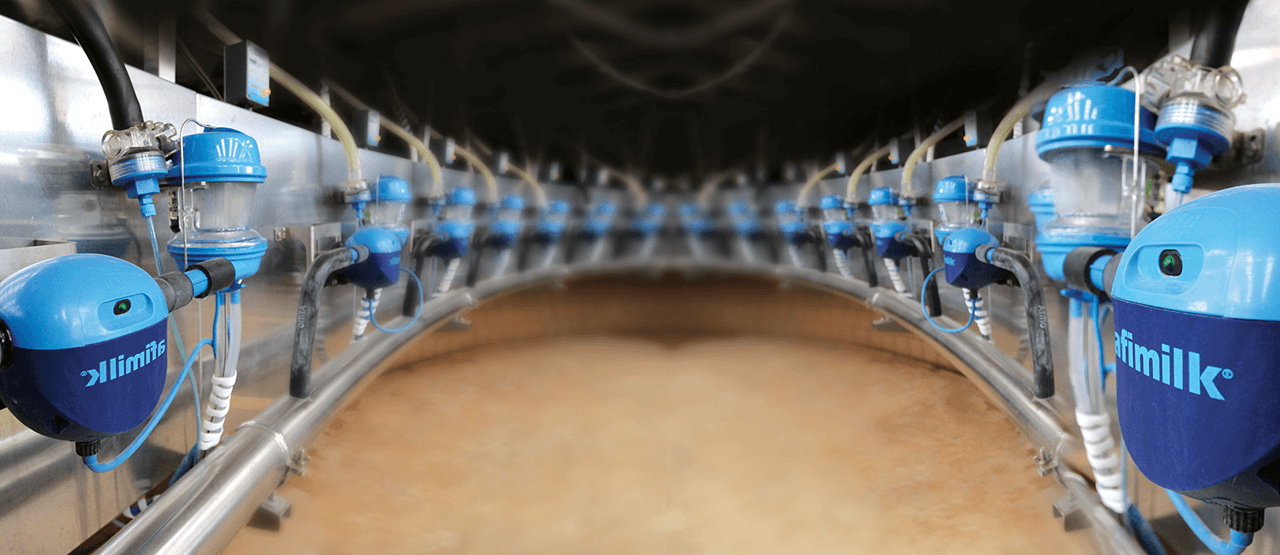 AfiFarm management system – All the data collected via Afimilk's milk meters, AfiLab, and the Aficollars is transmitted to the central AfiFarm management system where it can be readily viewed on desktop, analyzed, and used to inform decision-making by Nigel and other farmworkers.
Precision Feeding with Milk
Meters and AfiLab
Just like people, no two cows are the same. Dairy cows vary greatly from one another in terms of weight, metabolism, health status, milk composition, and other factors. To avoid food waste, save money and ensure optimum health and vitality, Nigel believes that each cow must be fed a precise diet tailored to its needs. The data he receives from the Afimilk milk meters and AfiLab is what makes this possible. While the AfiFeed system allows him to efficiently apportion the right quantity of nutritional supplements to the right cows.
Feeding every cow a standard amount and type of food (as is the common practice on many farms) is wasteful as larger cows may need more food and smaller cows may need less. A postpartum cow needs a different range of nutrients than a heifer or a multiparous cow. A sick cow may need a special feed or a supplementation program and so on.
Highly accurate and sensitive milk meters attached to each stall in the parlor provide essential data about each cow at each milking.
This includes:
Milk yield
Milk conductivity
Fat %
Protein %
Days in milk
Lactation number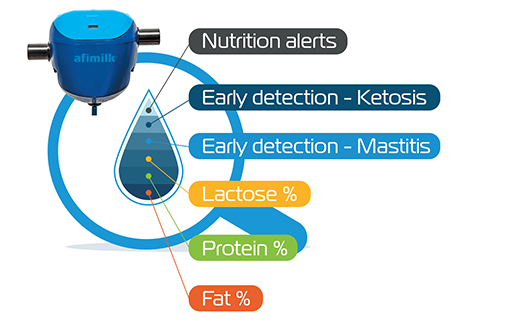 Farmers can review the milk meter data in AfiFarm and use this information to pre-determine the nutritional needs (in terms of both volume and content) of each cow. When the cow approaches the supplement feeding station, Afifarm identifies it via its collar or leg tag and automatically delivers the correct combination of nutrients that the farmer specified in the system. On Robhoek the four food bins are filled with maize, soya, minerals, and anionic salts respectively. Using AfiFeed, each cow is automatically fed the appropriate diet according to the preset defined information by the farmer.  Anionic salts are fed to close-up cows with maize to steam them up, from day -24 to calving
Aside from not wasting food and supplements on cows that do not need them, there is another economic benefit of precision feeding. In order to successfully sell the milk, it must be energy corrected. This is to ensure that all the milk being sold from various farms is of the same nutritional quality. The nutritional standard adhered to on Robhoek is the European Energy Corrected Milk (ECM) standard which is 4% fat and 3.4% protein.
Afimilk's algorithm is programmed to correct all the farm's cow's milk to the ECM standard, ensuring that all of the milk produced will be saleable and that the farm makes a healthy profit from its milk supply.
Precision Supplementation
Robhoek cows mostly graze on grass pasture, but they also receive supplements in the form of maize silage, apple pulp, and lucerne hay, as needed.
Any nutritional deficiencies will be detected by viewing milk meter data. This enables farmers to apportion the necessary supplements to correct any problems. For example, a rise in leaky gut incidence on Robhoek during hot late summer is effectively treated with a chromium supplement, thus limiting heat stress side effects..
Why AfiLab and Milk Meters?
The Afimilk milk meter together with AfiLab (In-Line Milk Lab) helps farmers keep a check on milk composition and volume and ensure that this remains within desired parameters. At the same time, AfiFeed can help farmers maintain the desired volume of high-quality milk by calculating the nutritional needs of each cow and delivering the precise combination of nutrients each cow needs to continue producing its best milk.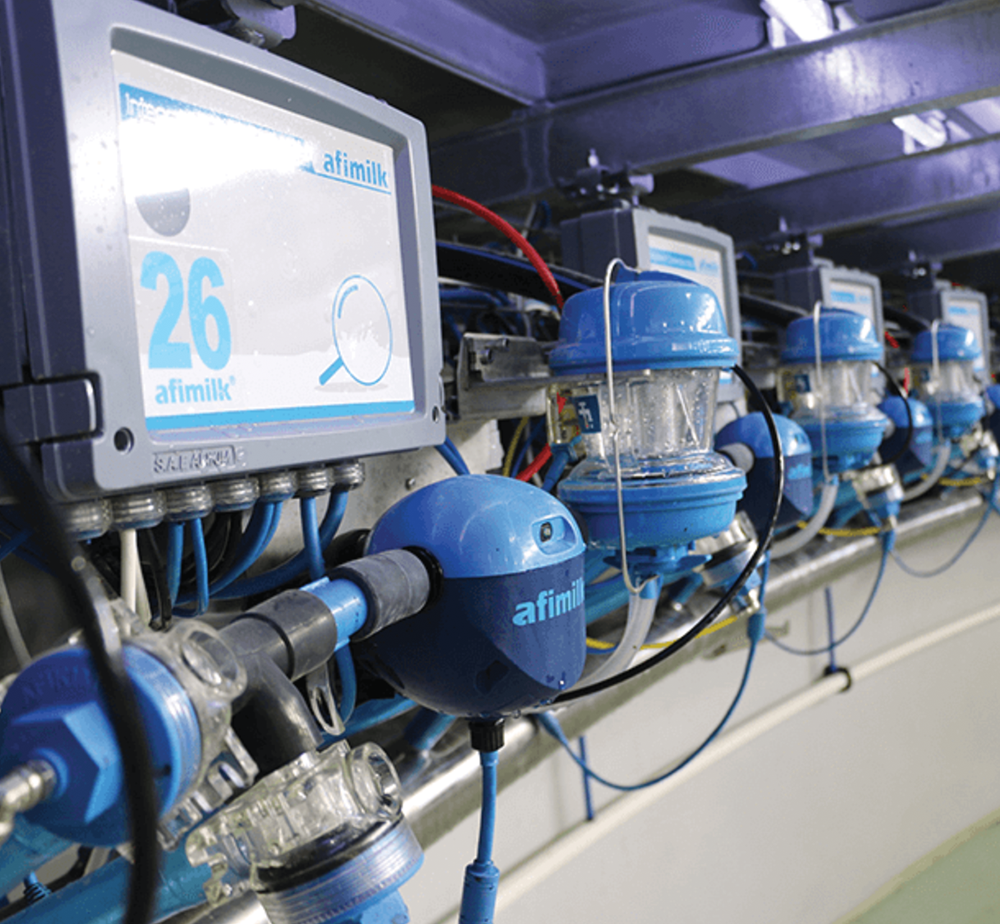 The quality and the volume of the milk produced is the goldmine of the dairy farm. The goal of every dairy farmer is to ensure that cows are given the right conditions to produce the maximum volume and the best quality milk possible. The best way to do this is to gather data and understand exactly what milk is being produced on a daily basis by what cows – "if you can measure it, you can manage it!" By using cutting-edge data-based tools like AfiLab, AfiFeed, and the Afimilk milk meter – As Nigel Lok has done – farmers have a measurable and reliable way of ensuring that this happens.
Using these tools, farmers will also be able to spot and remediate any deficiencies in good time, thus preventing widespread problems that could result in economic losses.